A few highlights from our research.
Its three departments - Biology, Chemistry, and Earth Sciences - ensure the Faculty is able to carry out interdisciplinary research and teaching at a high level. Our diverse array of activities investigates current issues in society, Nature, and technology.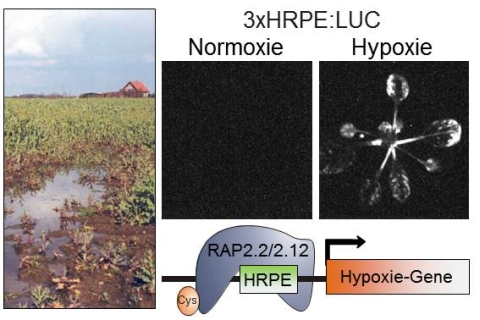 "How plants realize oxygen deficiency stress"

Only recently is has been described how plants can measure the internal oxygen concentration in order to respond to a decrease in oxygen during a period of flooding. This signaling pathway is based on a certain group of transcription factors that accumulate under oxygen deficiency, namely RAP2.2 and RAP2.12. The AG Plant Genetics has recently identified a promotor element that is bound by those proteins, which then regulate the transcription of specific tolerance genes (http://www.plantcell.org/content/28/1/160). ...more
---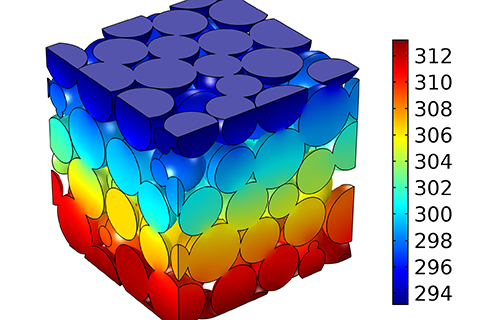 Heat transfer at small length scales
Energy efficiency and sustainability are important topics for the future. Prof. Retsch's research group explores this topic and investigates heat transport phenomena at small length scales. The main focus is on structured colloidal materials that make for suitable model structures. These help us understand heat transport through nanostructured systems. However, Prof. Retsch's research group also seeks to develop novel materials such as a thermal diode. ...more
---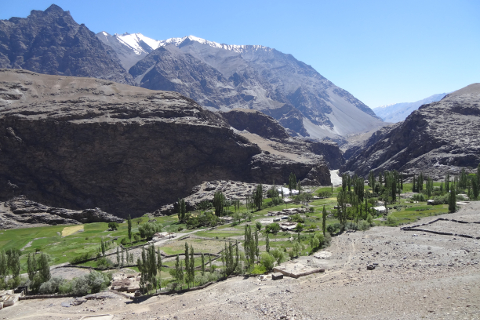 Ecological Calendars and Climate Adaptation in the Pamirs
As part of the project Ecological Calendars and Climate Adaptation in the Pamirs, funded by the Belmont Forum, initial fieldwork was carried out in the Pamirs. Over the course of an almost five-week campaign involving all the project partners of the University of Bayreuth, Cornell University, the Kunming Institute of Botany, and the Euro-Mediterranean Center on Climate Change, the areas of work were identified, the first climate instruments were installed, and social science experiments got underway. Further field research has been planned for the spring and summer of 2017. ...more