Aktuelles: Neue Professorin für Experimentelle Planetologie: Prof. Dr. Bouvier stellt sich vor
10. April 2019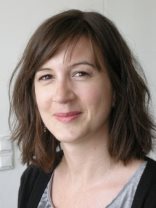 Audrey Bouvier is an isotope geochemist and cosmochemist who specializes in deciphering the origins and evolution of the Solar System and planets. She conducted her PhD in Earth and Planetary Sciences at the Ecole Normale Supérieure de Lyon where she established the timescales of planetary formation using plasma source magnetic sector mass spectrometry. She then continued her career as post-doctoral researcher in the United States, before becoming Associate Professor and Canada Research Chair in Planetary Materials at the University of Western Ontario in Canada.
The arrival in January 2019 of Prof. Dr. Audrey Bouvier at the Bayerisches Geoinstitut opens up new doors for the study of Earth and planetary materials, including meteorites and samples returned from space missions. She is in the process of establishing new state-of-the-art cleanroom chemistry and mass spectrometry facilities for the isotopic analysis of trace metals.
Her broader research expertise is in the fields of igneous petrology, trace element and isotope geochemistry, metal stable isotopes, and short-lived and long-lived radioisotope chronology of Earth and extra-terrestrial materials. These methods can be applied to a variety of geological questions associated with impact processes, ore deposit formation, or environmental processes.
Her most recent research contributions involve high-precision isotopic measurements and establishing the distribution of nucleosynthetic anomalies in meteorites to shed light on nebular and planetary processes and tracing the building blocks of the terrestrial planets. With researchers at BGI, she seeks to better understand the formation and composition of planetary interiors and their influence in making a habitable planet like Earth.
She will be offering new courses in planetary geochemistry and field excursions to planetary analogues to supplement the graduate programs in Earth Sciences.
Antrittsvorlesung:
Meteorites as cosmic and historical recorders of our origins
Mittwoch, 15. Januar 2020, 18 Uhr c.t., H8 (GEO)